A Moonless Affair + IWSG Update + Codes In Chalk
Today I'm excited to help fellow blogger buddy Crystal Collier, with the cover reveal of her book Moonless.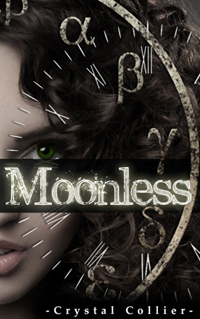 Log line: Alexia must choose safety and an arranged marriage, or true love and being hunted by the Soulless every moonless night.
Short Description: Alexia's nightmares become reality: a dead baron, red-eyed wraiths, and forbidden love with a man hunted by these creatures. After an attack close to home, Alexia realizes she cannot keep one foot in her old life and one in this new world. To protect her family she must either be sold into a loveless marriage, or escape with her beloved and risk becoming one of the Soulless.
MOONLESS is Jane Eyre meets Supernatural.

Crystal Collier, author of MOONLESS, is a former composer/writer for Black Diamond Productions. She can be found practicing her brother-induced ninja skills while teaching children or madly typing about fantastic and impossible creatures. She has lived from coast to coast to coast and now calls Florida home with her creative husband, three littles, and "friend" (a.k.a. the zombie locked in her closet). Secretly, she dreams of world domination and a bottomless supply of cheese. You can find her on her blog, and Facebook, or follow her on Twitter.
And a while back, Crystal, who is a cheese afficionado, awarded me the Sweet Blogger Award! Thank you so much! But I have to confess that I have a savoury instead of a sweet tooth…
Here are the questions:
1.What is your fave dessert? I'm not really a dessert person, but from time to time I enjoy an apple crumble and fresh cream.
2.Cake or ice cream? I don't go out of my way to look for either, though I have been known to enjoy a magnum ice-cream with almonds.
3.When do you like desserts most? Not really applicable.
4.Would you choose cookies or cake? Cookies in the form of savoury biscuits like crackers.
5.Vanilla or chocolate? Vanilla, I like the smell.
The Insecure Writer's Support Group website and Facebook Page are now fully operational. We have about 155 followers through Google Friends Connect and the Facebook page has about 315 sign-ups thus far. If you haven't had the opportunity to check it out, hop over to Facebook to see what's going on… there's a Motivational Monday, WoW it's Wednesday and Fun Friday theme with lots of discussions, ranting and raving… lots of empowerment too!
This post is part of the weekly hop hosted by Viklit over at Scribblings Of An Aspiring Author.
* * * * *
Who can remember the days when pavement markings represented childhood innocence… a part of the outdoor games we played, (something today's kids have little knowledge of), like hopscotch and hoopoo? Now that's not the case!
Check out the following that's been doing our e-mail rounds.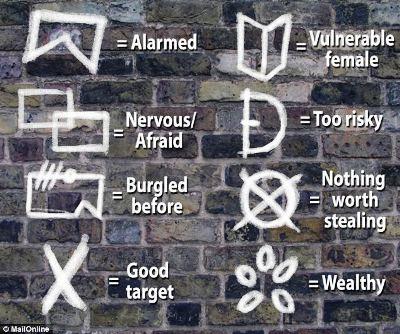 Burglars are using coded chalk symbols to let other criminals know whether a property is worth targeting.
The marks, dubbed the Da Pinci Code, are made by would-be thieves to indicate if the house is vulnerable, revealing who is living in the house and whether there is anything worth stealing. If you notice these markings at your property, remove immediately!
… and Monday I'm off to the Oprah Show… from 7.00 a.m. to 4.00 p.m. a whole day affair!
Enjoy your weekend!